There are many different types of foods around the world. Some are traditional and popular, while others are unique to each culture.
The best food in the world can vary widely, depending on your taste and preferences. But if you are looking for something that is delicious and worth travelling for, you have come to the right place!
Recommended:- The 8 Best Places to Visit in Europe
1.Massaman curry, Thailand
CNN Travel ranked Massaman curry Thailand #1 in the World's Best Food category in 2011. It's one of those dishes that can make even the most amateur cook look like a Michelin-star chef.
It's a combination of Thai curries with Indian spices. It's spicy, coconutty and sweet with a savoury edge.
This dish is a favourite with visitors to Thailand and also popular amongst the local Muslim population of Siam, as it is referred to as 'Muslim curry' (musulman). It incorporates more complex spicing and more depth than Thai curries and uses dried red chillies for heat, cloves for pungent sweetness and green cardamom and cinnamon for sweet warmth.
This savoury recipe is delicious with chicken, beef, lamb or even vegetarian. It's a rich curry that can be served with rice. It's perfect for a family meal. It's also easy to make.
2.Neapolitan pizza ,Italy
Neapolitan pizza is a traditional Italian dish that's a staple in many kitchens around the world. It has a thin base with a crispy but light and airy crust that is cooked quickly (less than 90 seconds).
The most popular form of Neapolitan pizza is the Margherita, which is made with tomatoes, fresh mozzarella cheese, and basil. According to some legends, this is the pizza that Raffaele Esposito invented to celebrate Italy's unification in 1889.
Authentic Neapolitan pizza is known for being tender, light, and moist at the same time, and needs to be cooked in a very hot oven for less than 90 seconds. It also uses highly refined flour, water, and yeast.
Several rules apply to this type of pizza, such as the dough must be made with Italian-style 0 or 00 wheat flour and must be kneaded by hand or in a low-speed mixer before being formed. It also must be proofed for at least 24 hours, which results in a very flavourful dough that can stand up to the intense heat of the oven.
3.Chocolate Mexico
If you're a lover of chocolate, Mexico is one of the best places to visit. The country has a long history of chocolate making, and is a great place to find all sorts of delicious confections and bars.
Whether you prefer sweet, bitter or spicy, Mexican chocolate has it all. It's also often flavored with unique herbs and spices like almonds, cinnamon or even chiles.
While Mexican chocolate is usually eaten in bite-size pieces, it's also used to make chocolate atole or as a frothy hot drink. In fact, the Mexican tradition of whipping hot chocolate with a molinillo is believed to date back to the Aztec era.
If you're looking for a way to enjoy chocolate in its truest form, there are plenty of specialty shops to check out in Mexico City and around the country. These stores sell fresh, artisanal chocolate that's made with the best ingredients. Some of these shops are located in the country's main markets, while others are more hidden gems.
4.Sushi ,japan
Sushi is a Japanese dish made of fish and vinegared rice. It's a healthy and tasty meal with a unique flavor, and it's available in restaurants throughout the world.
There are many types of sushi, including nigiri and maki. Nigiri sushi is usually shaped like a small ball and consists of fish topped with a thin layer of rice. Other variations include maki sushi, which consists of fish, vegetables, and other ingredients rolled inside a sheet of nori (seaweed) with vinegar rice and then sliced into bite-sized pieces.
In Japan, sushi is served at every price point and in a variety of styles. Some popular options include traditional izakaya, conveyor belt sushi restaurants, and sushi catering.
If you want to experience the best sushi, you should visit a traditional sushi restaurant. Here, you can sit at the counter and watch a sushi shokunin prepare the food in front of you.
5.Peking duck ,China
One of the world's most famous dishes, Peking duck has been prepared the same way since the Imperial era. The delicate meat is roasted slowly and served with pancakes, sweet bean sauce and julienned cucumber and scallion.
The dish is a delicacy that's enjoyed throughout China, though it's especially popular in Beijing. In the capital, the oldest restaurant specializing in this dish is Bianyifang, which has been in operation since the 16th century.
For a true traditional Peking duck experience, it's best to go to an authentic Chinese restaurant where the dish is prepared in the most authentic manner possible. This is because it takes a lot of time to get the right balance of fat and meat on the duck, and the crisp skin is something that can't be achieved by any shortcuts.
In addition to the crispy skin, the duck also has a tender and flavorful meat that's cooked to perfection. The dish can be served with a variety of side dishes including thin pancakes, julienned cucumber and scallion and a sweet bean sauce.
6.Hamburger ,Germany
Whether it's a simple cheeseburger in a bun or a gourmet version with all sorts of toppings, Hamburger Germany is renowned for serving up one of the world's best. It's no wonder that burgers are one of the most popular foods in the country; with restaurants from street vendors cooking up simple patties to fine dining establishments delivering top class eats, there's something for everyone.
The genesis of the hamburger can be traced back to the 19th century when German emigrants came to America on the Hamburg line boats, and were served raw meat patties cooked on the grill and placed between two pieces of bread. The meat was salted and slightly smoked, making it ideal for long sea voyages.
Today the hamburger remains a staple in both Europe and the United States, with many fast food outlets offering them as part of their menus. In Germany and the UK, the big chains McDonald's and Burger King dominate High Streets.
As we mentioned above, the burger is one of the most famous foods in the world. It's also a food that can be found in most places around the globe. The origins of the hamburger are disputed, but it's widely believed that it originated in Hamburg, Germany.
7.Penang assam laksa Malaysia
Penang is a melting pot of Chinese, Malay and other influences that resulted in an intensely flavorful cuisine. Its signature dish, Penang assam laksa, is one of the best in the world.
It is a spicy fish noodle soup that originated from Peranakan cuisine, a culinary mix of Malay and Chinese. It features poached ikan kembung (mackerel) with tamarind, chili peppers and lemongrass as the base ingredients.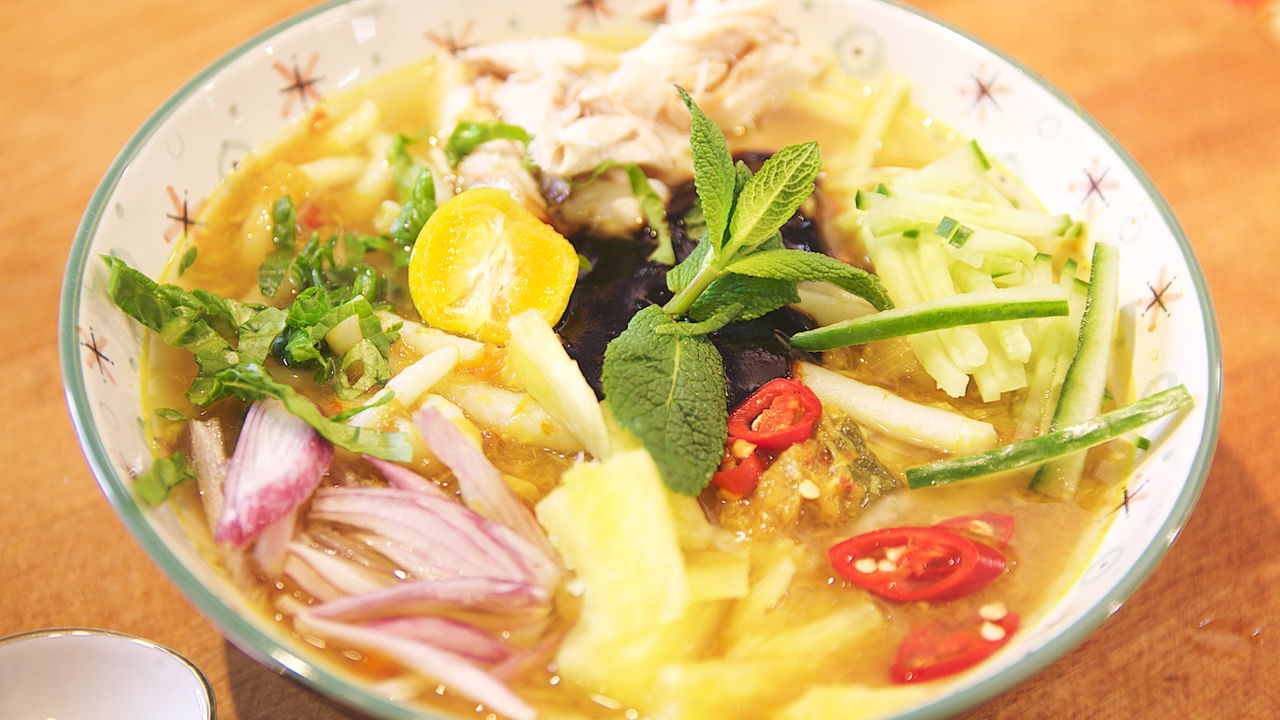 The broth is topped with a variety of garnishes including cucumber, torch ginger, fresh onions, pineapple and mint leaves to add a burst of flavour to your taste buds. It also comes with a generous portion of chewy laksa noodles and prawn paste.
There are a few good Penang assam laksa eateries that serve this dish to locals and visitors alike. One of the best is One Corner Cafe located just outside Hotel Royal in George Town.
8.Tom yum goong Thailand
Tom yum goong is one of the most beloved Thai soups. It's also a popular choice for a quick and easy meal on the go, and is known to be good for your health as it's packed with nutrients.
The main ingredients of tom yum include lemongrass, kaffir lime leaf, galangal, and fresh chilies. You can add a variety of other ingredients like fish sauce, cilantro, and more.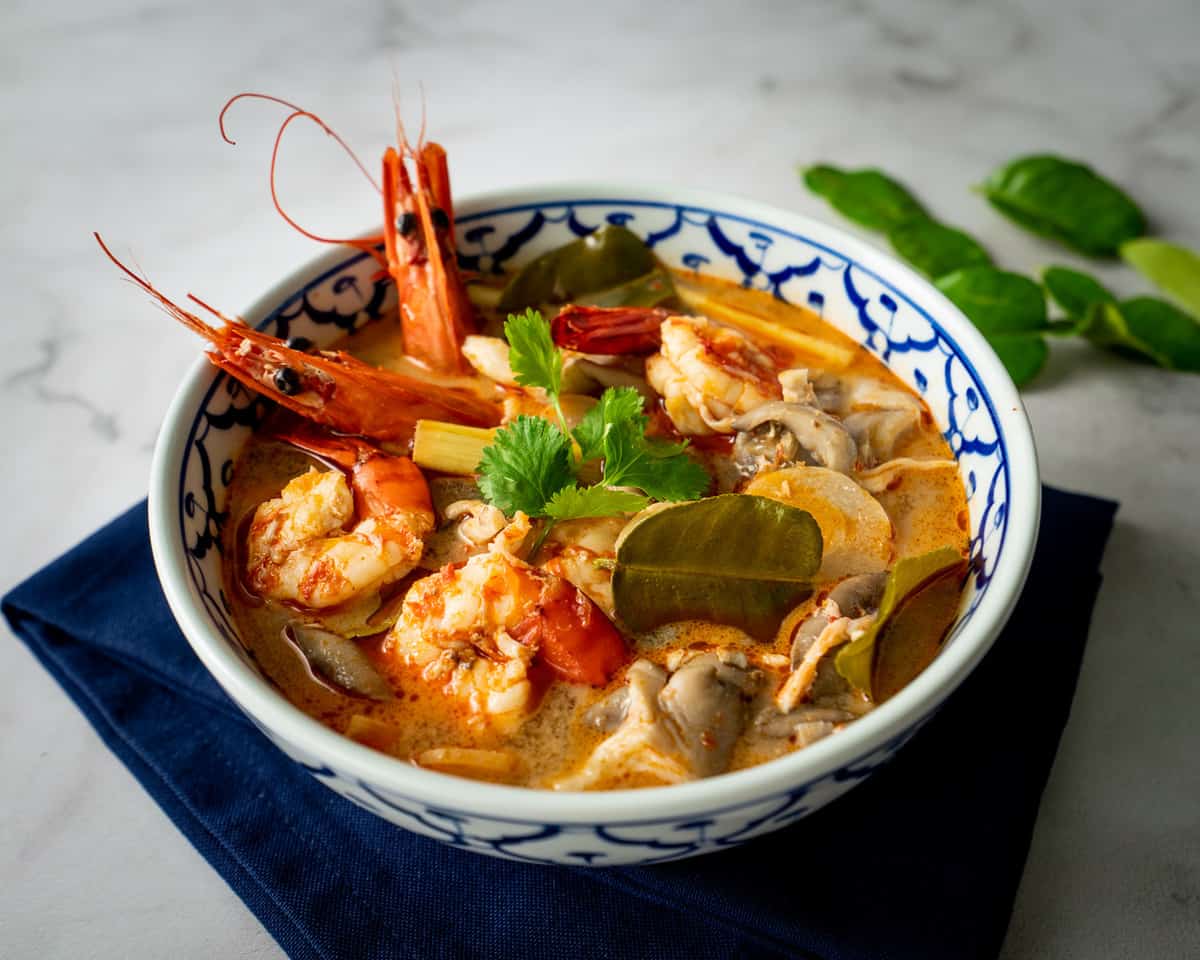 A delicious soup, it's also a great way to clear your sinuses and boost your immune system. In fact, it's been proven to help fight cold and flu viruses.
A staple of every Thai menu, tom yum is made with chicken or shrimp and can be served as a light meal. It's also very versatile, so you can make it with other types of seafood or vegetables to suit your tastes.