If you're looking to stay in New York City there are a lot of options. The key is to find one that fits your needs and budget.
The best hotels in NYC are ones that offer world class service and comfort. These are the places that you want to relax and recharge after a long day of sightseeing and exploring the city.
Recommended:-The 8 Best Places to Visit in Hawaii
1.Hard Rock Hotel New York
Hard Rock Hotels are known for bringing a bit of rock 'n' roll to big cities around the world. This latest incarnation in New York takes that to the next level, paying tribute to the legacy of Music Row with intricate design, curated amenities and award-winning guest experiences.
Located in the heart of Midtown Manhattan, Hard Rock Hotel New York is walking distance from iconic attractions such as Radio City Music Hall and Rockefeller Center. The property offers a variety of amenities including free WiFi, a fitness centre and room service.
The hotel's 446 rooms and suites pay homage to the history of music through blue and gold accents inspired by marquee lights flickering at dusk, carpet patterns patterned with sound waves, and iconic imagery of notable artists printed on sliding glass doors.
The rooms themselves are a mix of comfort and luxury, with king-sized beds featuring kimono robes and matching slippers. Other amenities include Lavazza espresso machines, Rock Spa bath products, and a coffee kiosk and gift shop.
2.Hotel Edison
The Hotel Edison is an art deco gem in the heart of Times Square. Its iconic design has influenced a number of nearby attractions and buildings, including Broadway theaters and Rockefeller Center.
It is an ideal destination for travelers seeking a convenient location to New York City's top attractions. The Broadway theatre district, Rockefeller Center, and Radio City Music Hall are all within walking distance from this property.
Classic and Signature rooms and suites offer a range of thoughtful amenities. They include iPod docking stations, safes, and pillowtop beds with premium bedding and down comforters.
Bathrooms feature bathtubs or showers, free toiletries, and hair dryers. Other features include flat-screen televisions with premium cable channels and pay movies, and free Wi-Fi.
This mid-range hotel is a popular choice with tour groups and travelers drawn by its convenient location in the theater district. Its 795 rooms are split between updated ones with contemporary design and less pricey unrenovated ones that are dated and don't have free Wi-Fi, but renovations are ongoing (as of winter 2016). The property has comprehensive fitness and business centers, as well as a bar specializing in rum drinks with a retro speakeasy vibe.
3.Margaritaville Resort Times Square
Margaritaville Resort Times Square is a paradise for those looking for a fun and relaxing escape from the city's hustle and bustle. The hotel features Jimmy Buffett's Margaritaville restaurant, LandShark Bar & Grill, 5 o' Clock Somewhere Bar & Grill, License to Chill Bar and the only outdoor pool in Times Square.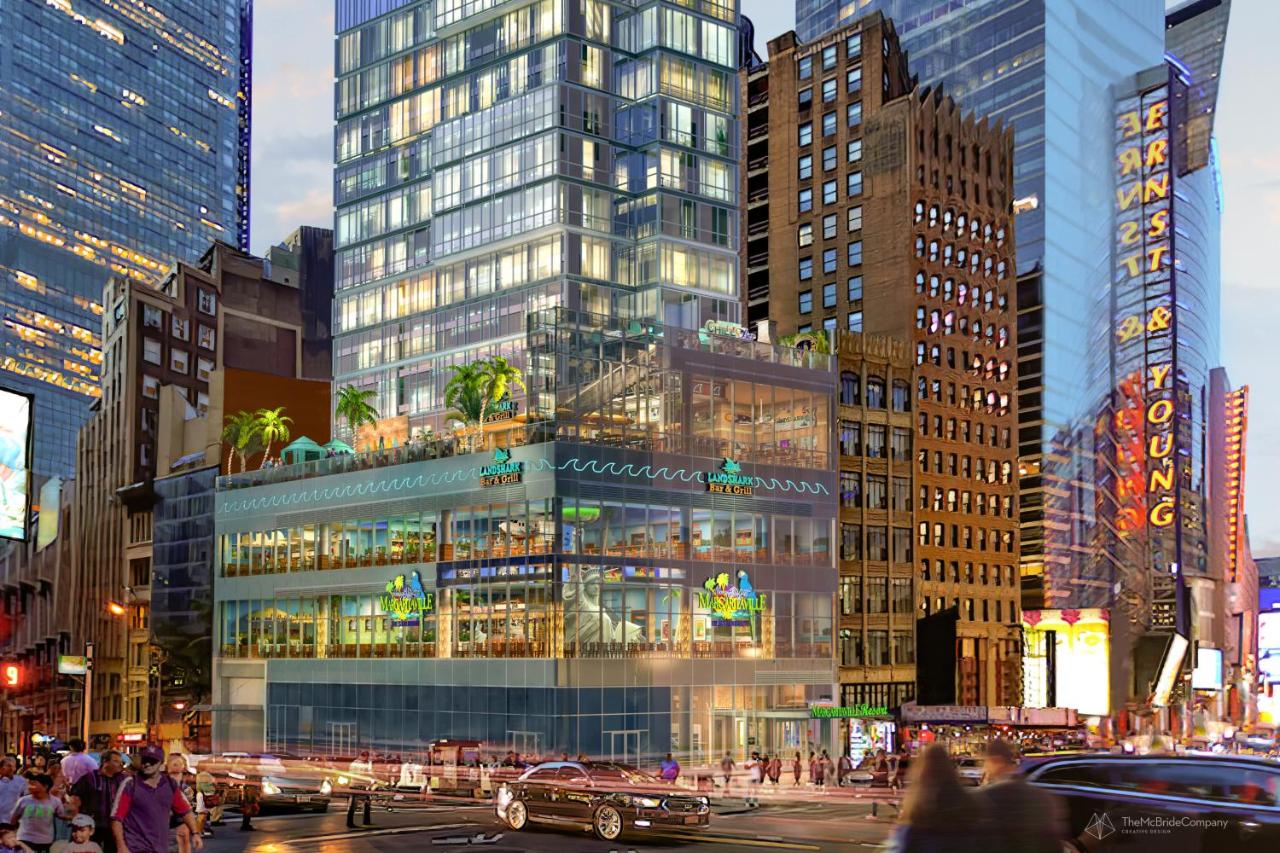 It's an incredibly well-thought-out hotel, with great staff and a really fun experience throughout. There's the big Statue of Liberty bust in the two-story lobby, a giant blue flip-flop statue, a discarded pop top, and a lot of other great touches that add up to an instantly memorable experience.
It's all a part of the reason Margaritaville exists in the first place: Jimmy Buffett's hit song "Margaritaville" is about a man who "wastin' away" from work and letting himself be entertained by life. It's a witty and often hilarious satire on the culture of hustle, greed, and stress that exists in the world and makes you feel like you need to escape from it all to find some kind of bliss.
4.Arlo Midtown
A sleek and stylish property, the Arlo Midtown is located near Times Square and offers a host of features to ensure an enjoyable stay. Its 489 rooms feature a blue and grey colour palette, padded leather headboards and direct access to private, sunny outdoor terraces.
Its social spaces keep guests connected to the city and each other, too. By day, the lobby lounge buzzes with hotel guests and locals stopping in for coffee or a bite to eat.
The hotel's flagship restaurant, Nearly Ninth, is also a hit among locals and guests alike. Its glazed ceiling and a collection of tall palm trees add to the tropical vibe.
The Arlo Midtown is located close to Times Square, Bryant Park, and Madison Square Garden. There are numerous subway stations nearby as well, so you can easily get around the city.
5.Hyatt Place New York
With a convenient location, spacious modern rooms and freebies such as hot breakfast and Wi-Fi, Hyatt Place New York is a solid pick for travelers on a budget. It also meets most guests' needs with a small fitness center, business center and cafe that offers sandwiches, salads and bar bites 24/7.
With 402 open hotels, Hyatt Place is a versatile brand that can be found in urban, suburban and airport destinations. These are typically mid to upscale hotels that operate on the upper end of the select-service category and compete with other brands like Hilton Garden Inn and Courtyard by Marriott.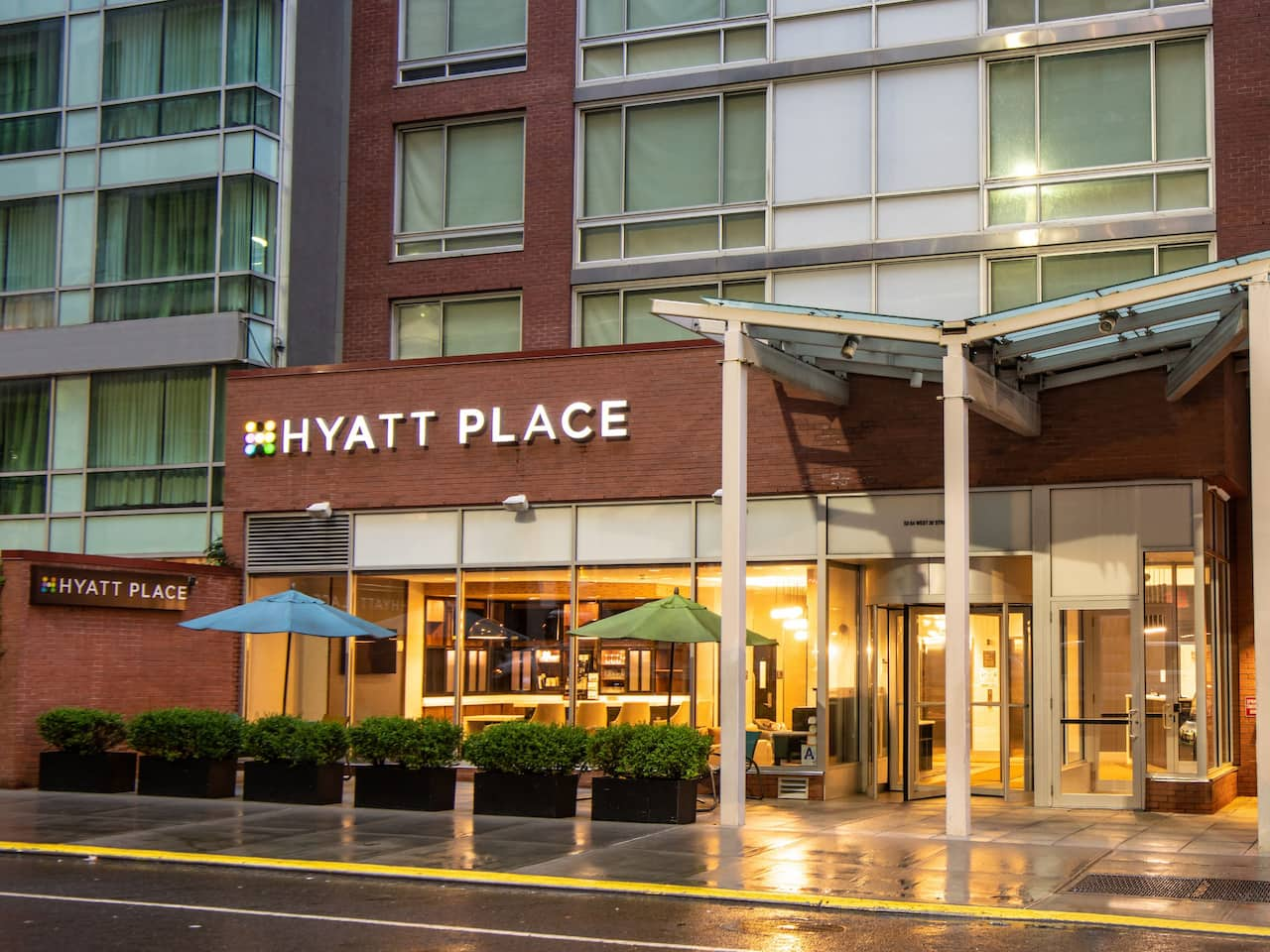 This hotel is located within a short walk of local sightseeing spots, including Times Square and Madison Square Garden. It is also a 10-minute walk from Pennsylvania Station.
With 520 rooms, Hyatt Place New York/Times Square is ideal for those who want to be centrally located in the city while exploring the cultural sights and attractions. An afternoon of browsing the works at The National 9/11 Memorial & Museum can familiarize you with the art scene in the area, while experiencing the local culture through architecture at Top of the Rock is just a short drive away.
6.Arlo SoHo
If you're looking for a hotel with a sense of community and a focus on local culture, then the Arlo SoHo is the place to go. Its location puts guests close to a variety of dining and shopping options, while also being central to SoHo, Tribeca, and West Village neighborhoods.
It's also one of New York City's more socially-minded hotels, with two buzzy bars and a courtyard. Office workers and travelers alike often gather for reasonably priced drinks, jazz music, and other entertainment.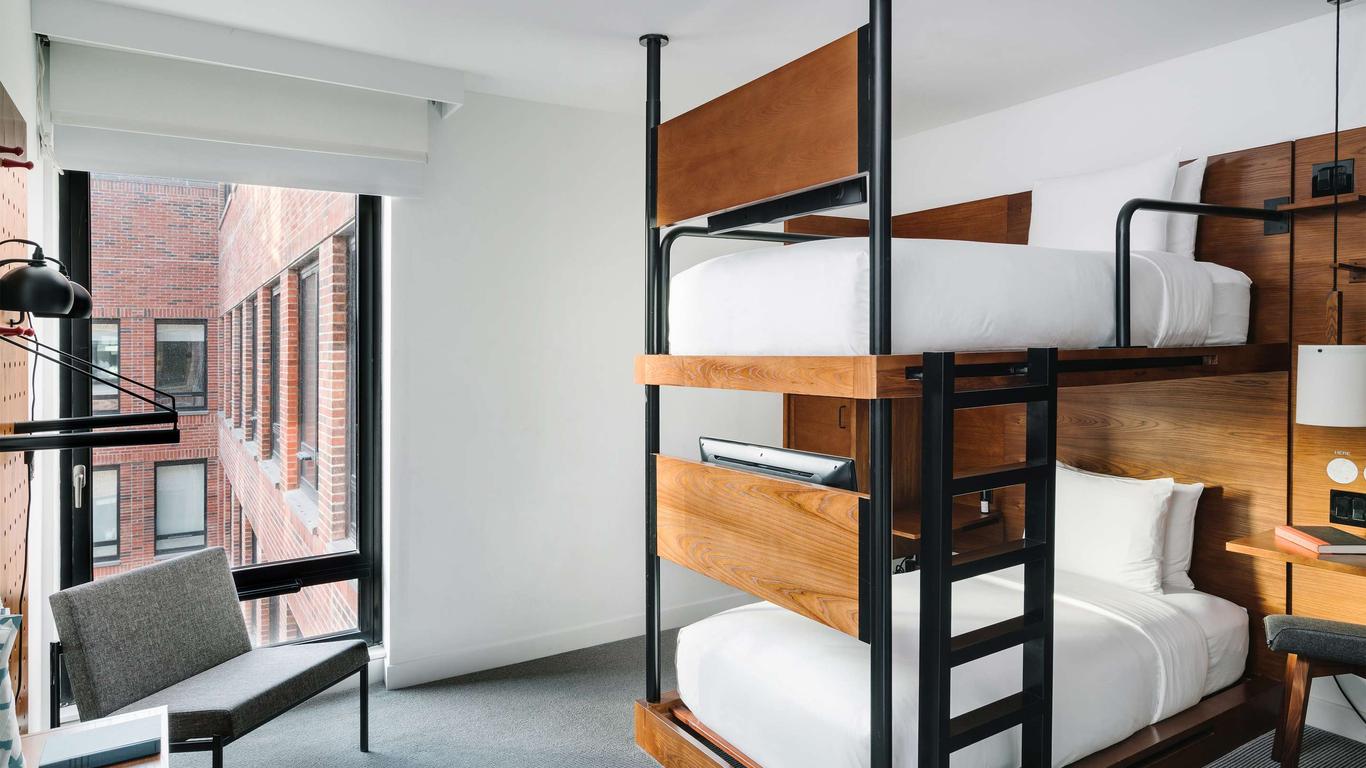 Rooms are small (around 150 square feet) by NYC standards, but they're still comfortable, offering efficient storage spots, flip-down desks, and, if you're lucky, a terrace with city views. Tucked into nightstands are mini-refrigerators and wall-mounted pegboards for hanging clothing.
The property offers a range of helpful services and amenities, including concierge service, express check-in and check-out, luggage storage and safety deposit boxes. Guests can also enjoy the on-site restaurant, Harold's Meat + Three, which slings down-home southern fare. Lastly, there's the rooftop bar for cocktails in the warm weather.
7.Moxy NYC Times Square
The Moxy NYC Times Square is the energetic alternative to the typical hotel experience. Cleverly designed by Yabu Pushelberg to adapt to the changing needs of modern travelers, Moxy offers a wide variety of room types, oversized walk-in showers, furiously fast Wi-Fi and free access to streaming apps.
Centrally located just south of Times Square, Moxy is a New York minute from everything – the Theater District, Fashion District, Bryant Park, Madison Square Garden, 5th Avenue shopping, Javits Center, Penn Station and Hudson Yards. It's the perfect place to immerse yourself in all that New York has to offer, and it's a perfect choice for group attendees who want to live it up!
The hotel features six12 rooms in a range of sizes, from doubles to king suites with twin quads. Each room is fully furnished and includes a living space, office area and HDTV with streaming service. There are also a number of dining options including Legasea, a trendy seafood restaurant. The property has a rooftop bar and lounge, called Magic Hour, which is the largest all-season roof deck in the city, with panoramic views of the Empire State Building.
8.The Lucerne Hotel
The Lucerne Hotel is an elegant, 4-star hotel in the heart of the posh Upper West Side district of Manhattan. This European-inspired landmark building was erected in 1904 and recently underwent a multi-million dollar renovation.
Rooms at the Lucerne Hotel feature a classic style with antique furnishings and modern amenities. Each room offers a flat-screen TV, complimentary WiFi, and luxury bath products.
Guests will also find a minibar, coffee maker, and in-room safe. Additionally, a laundry service is available upon request.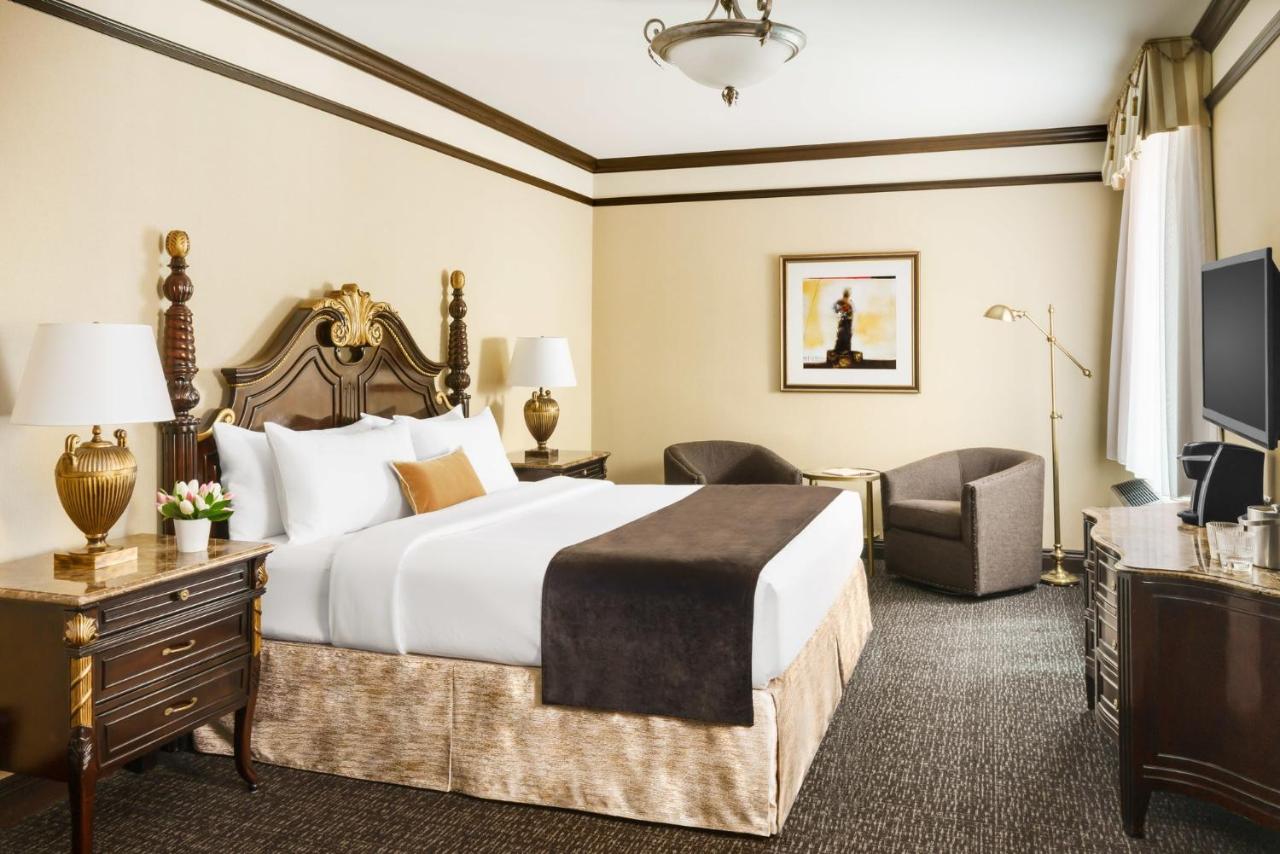 With its regal aesthetic and secluded location, the Lucerne Hotel is an ideal base from which to explore the city's many attractions. The property is also conveniently located close to a number of restaurants and is within walking distance of Central Park.
Guests can enjoy breakfast and dinner at the French restaurant, Nice Matin, or enjoy a drink at the bar. The Lucerne Hotel also offers a fitness center and a spa complex.