If you're planning to visit Switzerland, there are a few places that you should not miss. From the Alps to the charming cities, there are so many things that you can do and see in this beautiful country.
One of the top attractions in Switzerland is the Rhine Falls, which is Europe's largest waterfall. It's a sight to behold, and you'll want to take photos of it all the time!
Recommended:-The 8 Best Cuban Food Names in Miami
1.The Matterhorn
The Matterhorn, Switzerland's iconic pyramid-shaped peak, enchants visitors from all over the world. Whether in person, on film or in a postcard, its perfect shape and striking colours have captivated people since time immemorial.
It's one of the most recognizable mountains in the world, and its image is used on products from chocolate to men's swimwear. The mountain has a very special aura, which can be explained by its history: It resisted climbers' attempts to scale it until 1865, when a British expedition led by Edward Whymper managed to conquer it.
You can get to the base of the mountain from Zermatt by cable car or scenic railway. There are also a number of hiking trails, including the trail to Hornlihutte, which offers sweeping views of the Matterhorn and Gornergrat Ridge.
You can also visit the subterranean museum in Zermatt, which explains the region's history from alpinism to tourism. Among the displays are dramatic excerpts from Der Bergruft, which was filmed in Zermatt, and artifacts relating to the first ascent of the Matterhorn.
2.Jungfraujoch
Jungfraujoch, a UNESCO World Heritage Site and the highest railway station in Europe, is known for its panoramic views of the Swiss Alps. It also offers a variety of attractions for travelers of all ages.
The main attraction is a trip up to the top of the station, where you can experience the bewitching view of the snow-covered mountains and majestic cliffs. It's a once-in-a-lifetime adventure that you won't regret spending the money on.
You can reach the top of the station through the 7 kilometre-long tunnel of the Jungfrau Railway. The train stops at Kleine Scheidegg and the Eigerwand ice cave for views of the nearby Eiger and Silberhorn mountain peaks.
There's also a stop at Eismeer ("Sea of Ice") for more sweeping glacial vistas. The train is a comfortable ride, but it's best to wear winter clothes and sturdy footwear.
You can find all sorts of interesting things to do at the station, from a glacier cave to a snow fun park and even a multimedia tour about the history of the region. You can also explore the surrounding area by foot, including hiking trails and sledding on the snow.
3.Interlaken
Interlaken is a beautiful Swiss town that sits between two lakes, Brienz and Thun. Its close proximity to the mountains and a wealth of sightseeing options make it an excellent base for any Swiss adventurer.
It's also known as the gateway to Switzerland's famous Jungfrau region, a place where you can see some of Europe's most iconic mountain peaks. A popular activity here is skydiving, and the area also offers a range of skiing and hiking opportunities in winter.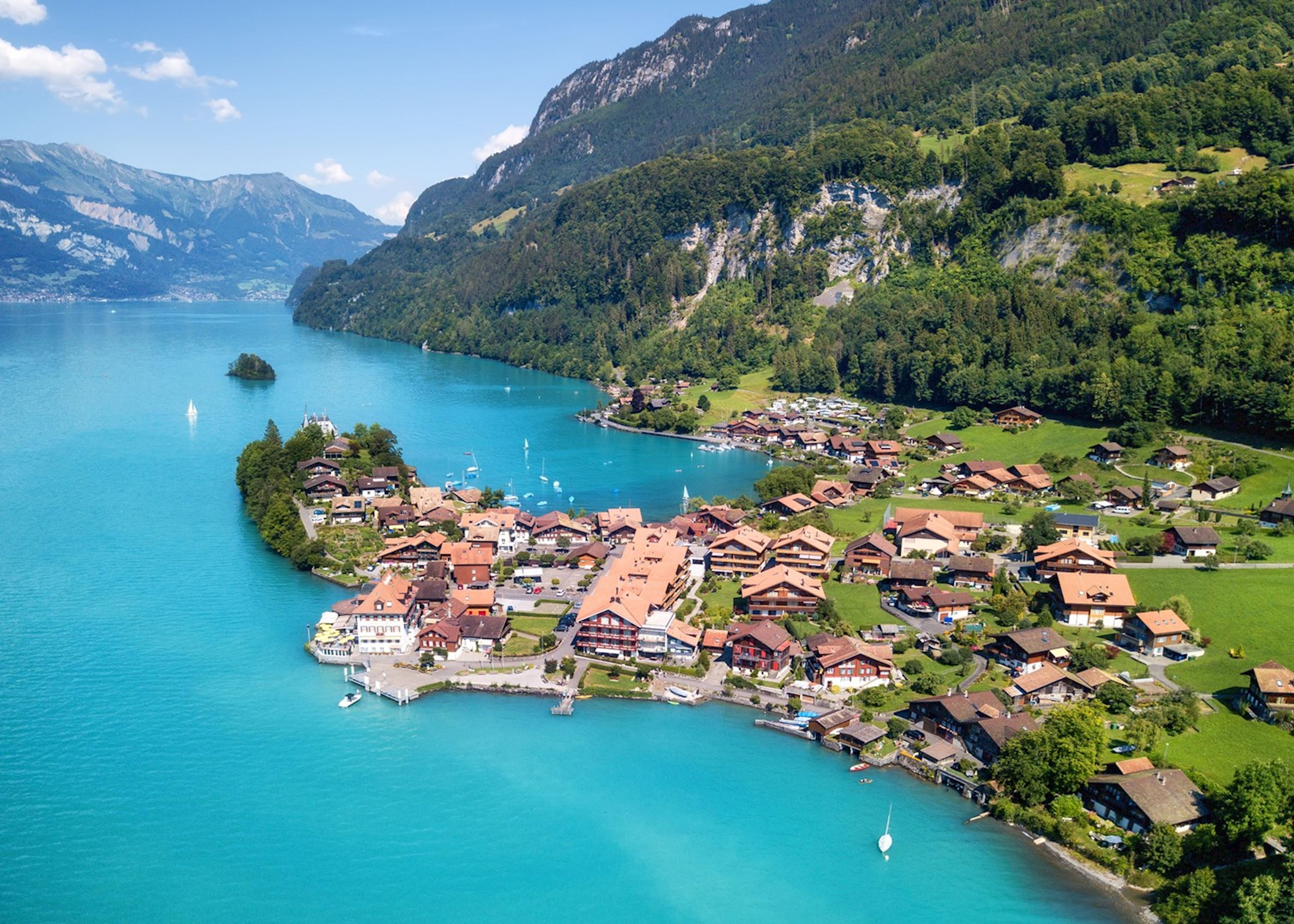 The best time to visit Interlaken is during the summer months of July and August, when it's the most popular tourist destination in Switzerland. You can explore the Alps by hiking or taking boat cruises around the lakes.
The quaint streets and historic buildings that are typical of Switzerland are the highlight of this lovely town. Chalet-style hotels and small restaurants abound, serving up traditional Swiss fare.
4.Lucerne
Lucerne is a picturesque city with plenty to offer visitors. From the medieval Old Town to scenic mountain excursions, it has something for everyone.
Visiting Lucerne is also a great way to experience Swiss culture. The city is home to no fewer than 15 museums, including the Rosengart Collection, which has 200+ works by famous artists like Picasso and Paul Klee.
Another must-visit landmark is the Chapel Bridge (Kapellbrucke), one of Europe's oldest wooden footbridges. It was built in 1333 and features a roof, truss design and ceiling pediments with 17th-century paintings of Lucerne's history.
If you're looking for a great place to shop in Lucerne, there are several shopping malls that sell clothing and souvenirs at reasonable prices. The largest shopping center in Lucerne is Mall of Switzerland, where you can find premium fashion stores selling clothes from European brands and specialized shops for children and perfumery.
Other shops include Freakatoriums, which sells themed souvenirs in a fantasy style, and Williseger, where you can buy Christmas-tree decorations all year round. The store also sells skillful match houses and music boxes.
5.Lake Geneva
Located in Walworth County, Lake Geneva is a charming city that makes for a great Wisconsin getaway. With stunning scenery and a rich history, this lakefront city is a top destination for tourists who want to experience the best of Switzerland.
Whether you want to soak up the sun on a beach, take a tour around the lake, or get some adventure on one of the many outdoor activities in the area, there is something for everyone in Lake Geneva.
The lake is full of beautiful mansions and estates that make for great photos, so if you're looking for a quick way to get a close look at these, book a sightseeing cruise with Lake Geneva Cruise Line. They offer a wide range of tours that include narration, quick tours and longer ones.
Lastly, there are plenty of unique shops that are worth checking out. Here, you'll find that perfect gift or stir up a memory from the lake. There are also antique stores where you can pick up that perfect home accent.
6.St. Moritz
Often considered Switzerland's original winter wonderland, this Alpine resort has been luring royals and moneyed wannabes since 1864. It was the birthplace of Alpine tourism and has twice hosted the Winter Olympics.
Aside from the shimmering aquamarine lake and aloof mountains, St. Moritz is home to several world-class attractions. You can experience everything from horseracing on ice to bobsledding.
There are also 155 km of ski slopes in the Corviglia mountain range. The healing springs in the resort are more than 3000 years old and have a reputation for being one of the best.
Another mountain you shouldn't miss while in town is Diavolezza, which offers amazing views of Piz Bernina and Piz Palu mountains as well as the Pers Glacier and Morteratsch Glacier. It is a bit more distant from the city but it's worth the trek.
7.Bern
The Swiss capital of Bern might not sound like the most exciting city to visit, but it's full of fascinating things to do that prove otherwise. The historic old town is filled with sandstone buildings and pointy towers, and the riverside setting makes for an idyllic getaway.
The city also has a number of museums that are well worth checking out, from the Bern Historical Museum to the Paul Klee Collection museum. The latter is particularly interesting to history and art fans, as it features a collection of 4,000 works by the iconic artist Paul Klee.
Another interesting place to check out is the Bern Clock Tower, which has a very special layout and mechanical workings inside its loft-like tympanum. You can take a tour of the clock and see how it ticks, so make sure you have time for this during your stay in Bern.
Bern's quaint-for-a-capital ambience is also evident in its covered arcades and cozy cafes, which are lined with charming wrought-iron railings and dotted with colorful fountains. These are a perfect way to while away your time in the city, and many of them are even equipped with terraces that offer great views of the Old Town.
8.Lake Lugano and Ticino
Lake Lugano is Switzerland's largest and most beautiful lake, and a major tourist destination. It's located in Ticino, the lone Italian-speaking canton of Switzerland.
It is surrounded by mountains, including Monte San Salvatore and Mont Bre. Easily reached by funicular train, these mountains offer some of the best views in all of Switzerland.
A funicular will take you to the top of Monte San Salvatore, where you can walk a scenic trail through the alpine vegetation. At the summit, you'll have a spectacular view of both Lake Lugano and the snow-capped Swiss Alps.
Another must-see in the area is Cascata Piumogna, a gorgeous waterfall that sits at 700 meters above sea level. You can hike to the falls or take a boat ride to see them from above.