If you're looking for a great vacation spot, there are so many incredible places to visit. From jaw-dropping natural wonders to stunning cities, we've rounded up 8 of the best places to travel in the world.
One of the most beautiful sights to see is China's Reed Flute Caves. These pillars and caverns are illuminated by bright colored lights, giving them an incredible glow that will leave you in awe.
Recommended:-The 8 Best of Food in Washington DC
1.Paro
Paro is one of the most renowned tourist destinations in Bhutan. It is home to many fascinating temples and monasteries that lure travelers with their charm.
The most popular attractions in Paro are Rinpung Dzong, National Museum of Bhutan, and Paro Taktsang. It is also famous for its breathtaking views of the mountains surrounding it.
A visit to the Paro weekend market is a must-do during your vacation in this picturesque valley. This market is a hive of activity where you can find anything from traditional Bhutanese crafts to souvenirs for yourself and your loved ones.
While you are here, don't forget to check out Tamchoe Lhakhang, a quaint monastery dedicated to the excellent horse. Built by Thangtong Gyalpo, this place is a perfect place for a peaceful stroll.
Another must-visit is Kila Goemba, a cliffside nunnery that houses over 60 Buddhist nuns who have chosen to live in seclusion by choice. It is a modest place that provides a panoramic view of the valley from atop its summit.
2.Bali.
Located in Indonesia, Bali is a popular travel destination that has a lot to offer from amazing beaches and world-class surfing to a large number of cultural, historical and palaces set against stunning natural backdrops. This tropical island is also known for its adventure and sport activities like white water rafting, diving and volcano hiking.
Temples in Bali are a must-visit on any trip to the island. While Taman Ayun and Uluwatu are the most famous, a countless number of smaller ones can be found in sleepy rural villages or even within every family compound.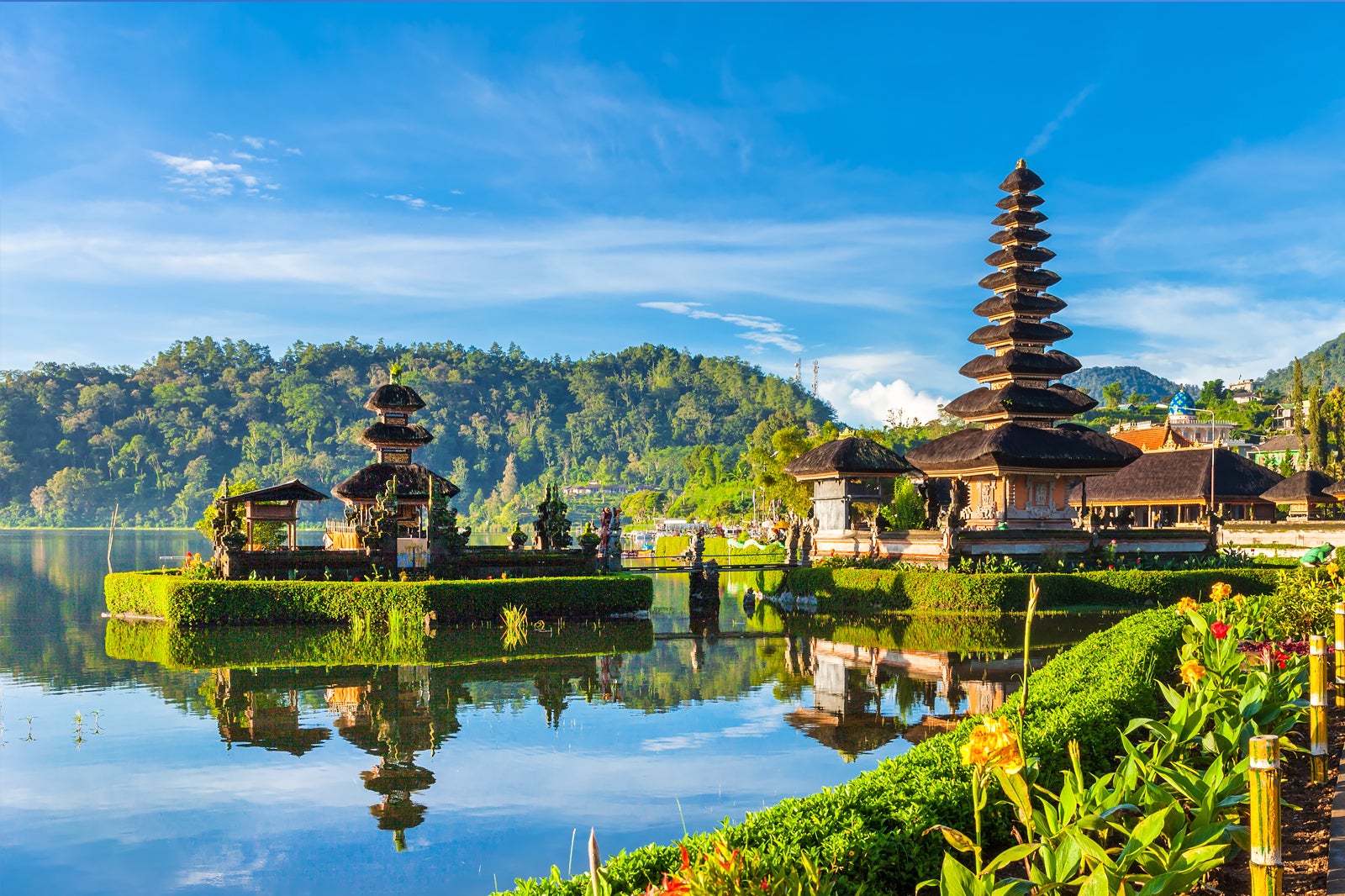 Most of these shrines are dedicated to the Trimurti, or divine Hindu trinity, including Brahma, Vishnu and Shiva. They might be built in the form of three tall thatched meru towers or simply stand on the edge of a village's main road.
Another famous and picturesque landmark is the Ulun Danu Bratan Temple, which is a floating temple that can be seen from a distance. This temple has become a favorite spot for photographers and Instagrammers over the years and it is one of the most photographed temples in Bali.
3.Abu Dhabi.
If you're looking for a Middle Eastern hub that's culturally diverse, yet offers plenty of adventure, look no further than Abu Dhabi. It's come a long way in the last few decades from a stopover destination to one that can be seen as its own, thanks to its blend of world-famous attractions and an abundance of culture.
The cosmopolitan capital may be packed with skyscrapers, but you can still see the roots of this emirate in its traditional buildings and heritage sites. In the center of town, Qasr Al Hosn is a historic fort, and nearby House of Artisans features traditional crafts from across the region.
Another must-see place in Abu Dhabi is Louvre Museum, which is the largest museum in the Arabian Peninsula and boasts an impressive collection of artwork. Its architecture is also quite appealing and you can enjoy an excellent view of the building from the outside.
There are many more things to do in Abu Dhabi, including riding a camel at sunset or visiting the world's first Warner Bros branded indoor theme park. The park is a great way to spend the day with the kids and you can even try out your skills in a variety of rides.
4.Bentota.
Bentota is the perfect destination for those looking for a pristine beach break in Sri Lanka. There are many fun activities that you can try here such as surfing, snorkeling, diving, parasailing and catamaran sailing.
The best time to visit Bentota is between November and April, when it's warm and dry. However, it's important to be prepared for the occasional showers.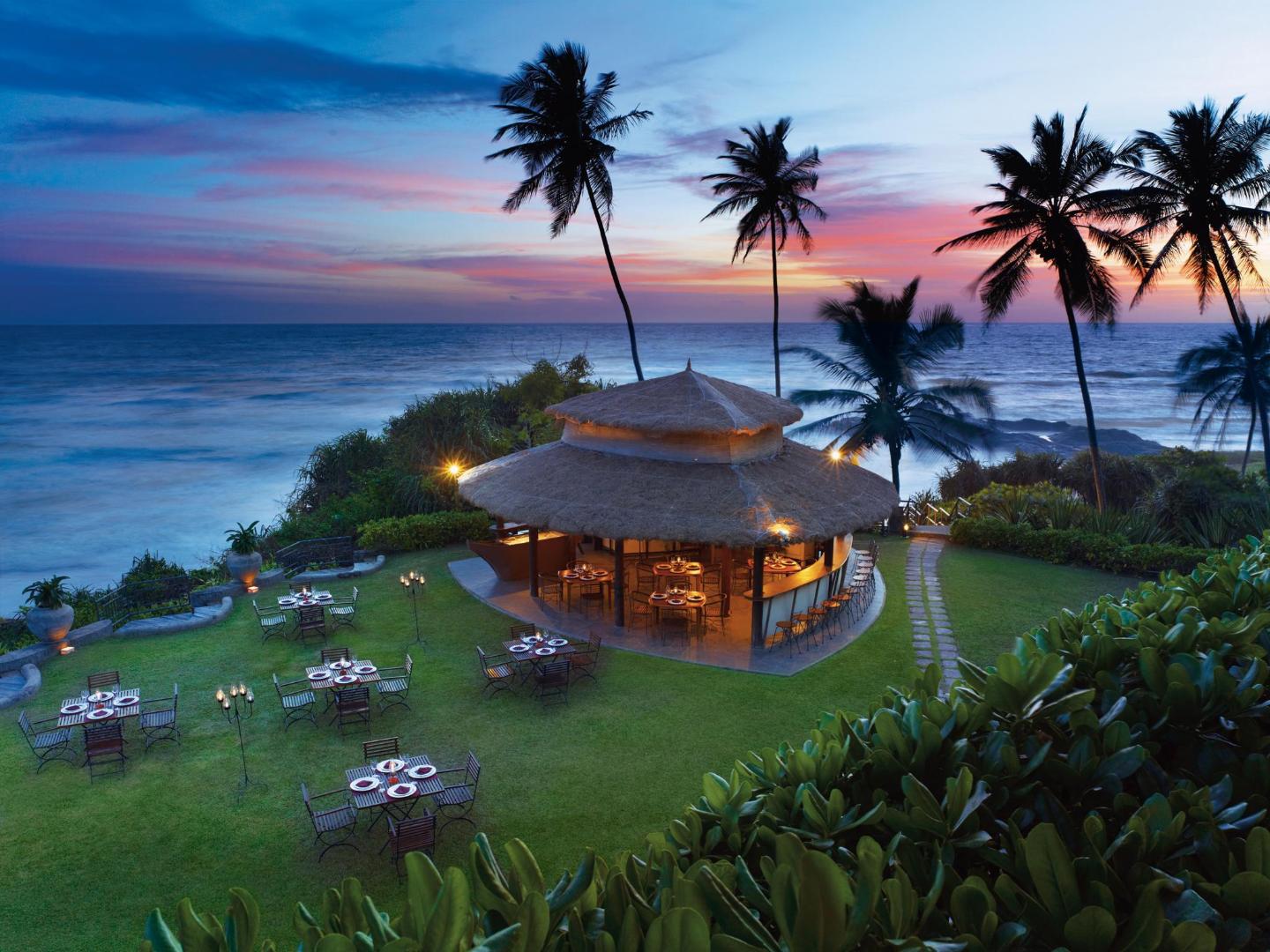 One of the best things to do in Bentota is biking, as it's a great way to get around and connect with nature, culture and local people. You can rent a bike and cycle through the town, along the tea plantations and rice fields, across a river, past a lagoon and a few Buddhist temples.
You can also go on a day tour of the city, including a visit to the famous Bawa Garden. Geoffrey Bawa, one of the most influential architects in Asia, poured over 40 years into creating this stunning landscape of art and comfort.
5.Hanoi.
Hanoi, the capital of Vietnam, is a fascinating blend of East and West. Its bustling streets are full of bicycles, motorbikes and cars, while ancient pagodas sit alongside communist block buildings and French Colonial relics.
One of the most popular attractions in Hanoi is the Old Quarter, a mesh of narrow streets filled with antique brick buildings, covered with modern street vendors and motorbikes. It is also a crash course in dense Vietnamese city life.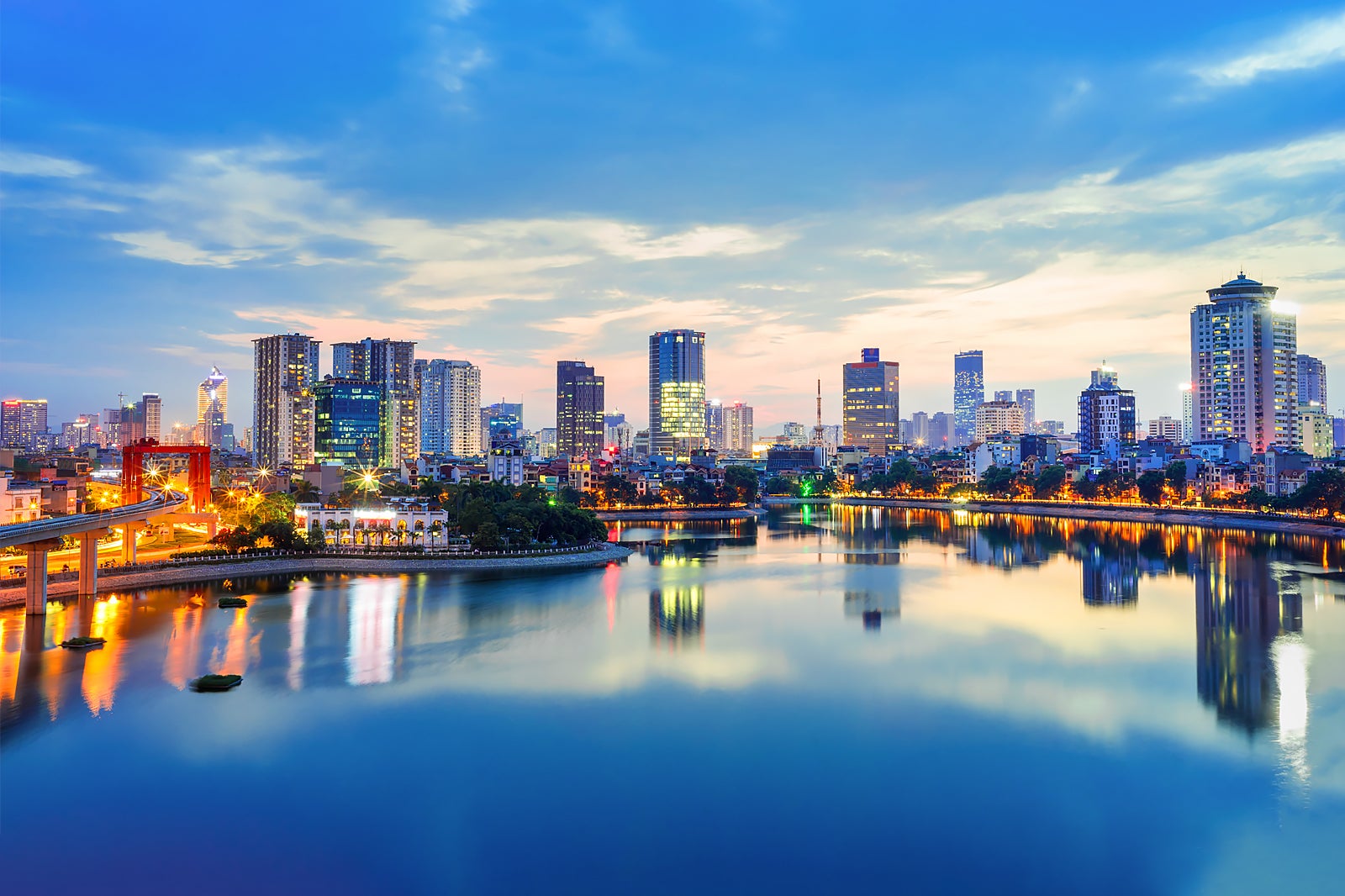 A great place to start is the Long Bien Market, where locals go to stock up on ingredients for their cooking. Afterwards, head to the Dong Xuan Market for a shopping spree with a wide selection of products to choose from.
Another must-visit attraction in Hanoi is the Turtle Lake, also known as Hoan Kiem. This serene area features a secluded Ngoc Son Temple, with an iconic red bridge leading to the island, as well as the oldest pagoda in the city. The lake also offers plenty of opportunities for jogging, line dancing and Tai Chi.
6.Maldives
Maldives is an ethereal paradise that lures tourists from all over the world with its mesmerizing natural setting. This pristine string of coral islands are known for their warmest hospitality, surreal tourist attractions and myriad adventure sports.
This tropical island chain is also famous for its marine life, with dazzling coral walls and magnificent caves aplenty. In deeper waters you can spot manta rays, turtles and sharks.
Aside from its awe-inspiring landscape, this nation is known for its culture and traditions that have evolved since seafarers settled here in ancient times. Watching a bodu beru dance, browsing exquisite handicrafts at souvenir stalls or joining a game of beach volleyball with locals is an excellent way to get acquainted with the island culture.
The nation has a strong sense of national identity and religious unity that binds its people together. Political unrest has plagued the islands in recent years, affecting the tourism industry, but these turbulent times are not a deterrent to those who want to experience this paradise.
7.Krabi
Krabi is a vibrant seaside town with an endless array of things to see and do. Its sterling sandy beaches, rocky cliffs, caves and calm waters make it a home to a wide range of wildlife.
There are two main seasons in Krabi, the dry season from December to April and the wet season from May to November. During the wet season, you can expect rain to fall regularly.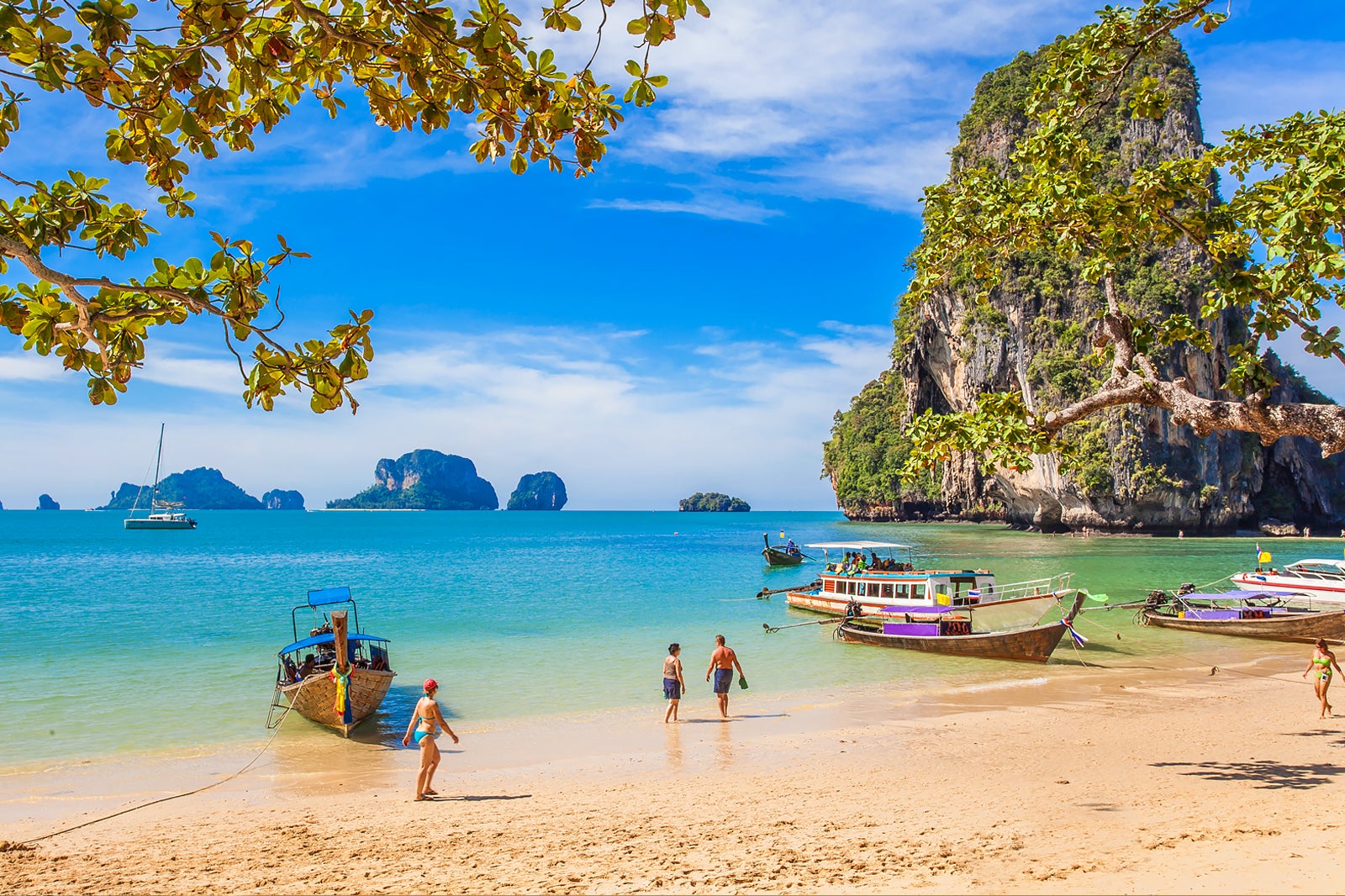 The city's main beach is Ao Nang, where you can book accommodation right on the sand. There are plenty of shops, restaurants and bars to keep you busy, but if you want to experience a more secluded beach, try Ao Thalane, a natural bay where you can hire a kayak or take a tour.
The city is also home to a few interesting temples, one of which is Wat Kaew, which is the oldest in Krabi. The interior walls are painted blue and feature Buddhist drawings. Visitors are asked to dress appropriately and remove their shoes at the entrance to the temple.
8.Mykonos
Known for its cosmopolitan vibe, luxury accommodation and party scene, Mykonos is the ultimate island getaway. It's home to internationally-acclaimed restaurants and clubs – many of which attract celebrity DJs – and 25 stunning sandy beaches that fringe the island's iridescent Aegean waters.
The enchanting capital, Hora (aka Mykonos Town), is packed with whitewashed houses, narrow alleyways and churches that give this Greek Cyclades island its unique style. Take a stroll along its pedestrian streets, lined with boutique shops, tucked-away restaurants and a selection of hotels.
You won't want to miss Little Venice, a series of alleys that run right against the sea and offer dazzling sunsets and sparkling nightlife. Also, be sure to pay a visit to the windmills that sit above the harbour.
Mykonos is a popular holiday destination in the summer, but shoulder season (April to early June and late September and October) offers fewer crowds and cheaper hotel prices. In winter, too, the weather can be warm and sunny but not hot.